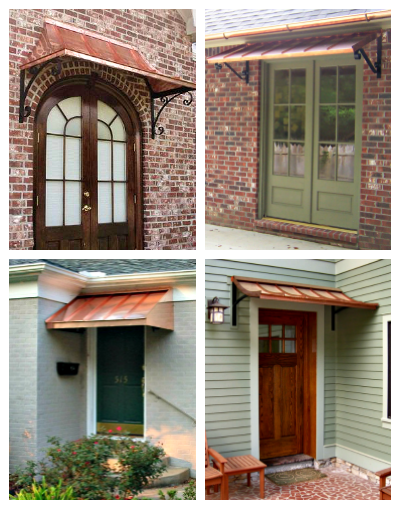 By Kenneth Cannon
|
A Gallery Of Metal Door Awnings
Pinterest is a gateway to beautiful, modern, artistic creations for homes and businesses.
Why should the beautiful metal door awnings you'll find there be any exception?
Pinterest can inspire you as you search for the perfect door awning for your house or business. Take a look at these 10 beautiful metal door awnings from Design Your Awning's own Pinterest account to show you all the options, styles and designs you have to choose from.


1. Urban Oasis

This Southern classic home in New Orleans has been given a contemporary flair with this copper Juliet awning. The contrast between the modern metal awning and the ornate balcony gives a traditional home an urban, up-to-the-minute feel.
2. Ornate Classic

A classic-style copper awning gives this red brick home a sophisticated, old-world elegance. This pin demonstrates how an ornate awning can "dress up" an otherwise simple home.
3. Country Chic

A copper door awning gives this Massachusetts home the flair and style of a chic country home. The brightness of the copper provides a welcome contrast against the home's neutral exterior and colorful landscaping.
4. Urban Funk

The photo shows a window awning, but "Urban Funk" is a popular eyebrow awning for doors as well, as it gives the house a spunky feel that livens up the rest of the exterior. With its ornate curlicue scrolls standing out against the home's white stucco exterior, this awning makes quite an impact.
5. New Southern Charm

This concave copper door awning installed at a historic New Orleans home brightens up the building's whole facade. The bright copper and ornate scrolls of the awning demonstrate how a simple touch can bring a welcome update to even a centuries-old structure.
6. Copper Contrast

A sophisticated copper eyebrow awning gives a modern touch to this red brick home. Set off against the wood and glass door, this pin demonstrates how an awning can be used to provide contrast and a modern twist to a classic home.
7. White Showstopper

This Juliet door awning demonstrates how a metal awning can turn an aging house into an eye-catching modern show home. The dark bronze awning with lazy scrolls really pops against the white brick of this home.
8. Winning Team

This combination of copper Juliet and classic awnings works beautifully well against the home's dark color and white window trim. The house's muted colors work with the vibrant copper to deliver a "wow" factor.
9. Dynamic Textures

A small concave awning gives this wooden home an elegance that it wouldn't otherwise have. This pin demonstrates the power that a contrasting metal awning can have against wood or vinyl siding to really make a home pop.
10. Romeo, Oh Romeo

This Romeo-style copper awning is one of a few welcome updates installed to modernize this classic red brick home. Along with white trim and banisters, the copper awning brings the home into the 21st century without sacrificing its old American charm.
If you've been inspired by these beautiful door awnings, why not design one of your own? Design Your Awning can help you build one-of-a-kind awnings that are an investment in your home's value and beauty. Just think about the kind of look you love, and Design Your Awning can help you match your specifications, and then ship your awning right to your door. Need more inspiration? Browse through more of the door and window awnings we offer.