WE BUILD ON YOUR IMAGINATION
Choose from our collection of beautiful designs and styles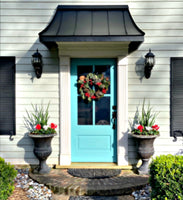 Welcome to Design Your Awning
With a passion for craftsmanship and an eye for design, we specialize in
creating door and window awnings that not only protect your entryway from
the elements but also add a touch of timeless elegance to your space.
Explore our collection and let us craft the perfect awning to showcase your unique style.
customer reviews

04/29/2019
Extremely Impressed with Your Product

We are both extremely impressed with your product, company, and professional supplies/support for installation on any building material...and that is from a very detail-oriented engineer with a construction background!
Larry K. --- Riva, MD

03/07/2019
The Awning Looks Great.

The awning looks great. Having everything to install it made it easy. Planning to do more in the future thank you very much.
Billy H. ---Peach Tree City, GA

08/30/2019
Perfect Product

Just wanted to thank you and your team for designing and fabricating a perfect product. It arrived perfectly and because you sent everything needed to install. I was able to do the job myself without a trip to the hardware store. Thanks again!
M. Smith --- Dudley, NC

05/29/2019
We just love it!
We just love it!
Robert R ---Morristown, NJ

05/26/2019
We installed it in less than an hour!

We got it up in less than an hour and we love it! Thanks again!
Cheryl S - Frederick, MD

07/03/2019
The Clients were Impressed!

The awning installation process went smooth and came out looking great! The clients were impressed with the quality of work and result of their awning. Also, thanks for being very thorough in the process with us. I find it hard to come across people that can provide the detailed service that you did. Hope to do business again.
Orlando M. – Houston, TX

It Goes Perfect with the Colors and the Architecture of the House.

We love the awning! It goes perfect with the colors and the architecture of the house. Thank you so much for all your assistance and getting it to us quickly.
Kelly B. --- Venetia, PA

10/18/2019
It Looks Fantastic!

It looks fantastic! So light and easy to install.
Edward M.---Jonesboro, TN

10/20/2019
We LOVE our awning

We LOVE our awning. It's transformed our home's exterior thank you!
Haley S. --Vienna, VA

08/05/2019
Wonderful Job! Wonderful Job!

Just wanted to thank you for just a wonderful job! The awning helped to complete our project and it is the talk of the neighborhood!! Thank you so much!
Debra G. - Gadsden, AL

09/30/2019
The Awnings Look Amazing!!

Thanks for everything awnings look amazing!!
Kyle F. - Houston, TX

12/05/2019
The Awning Went Up Great.

The awning went up great. It was very well designed and easy to install. Finished the day before our first snow of the year.
David H. - Castle Rock, CO