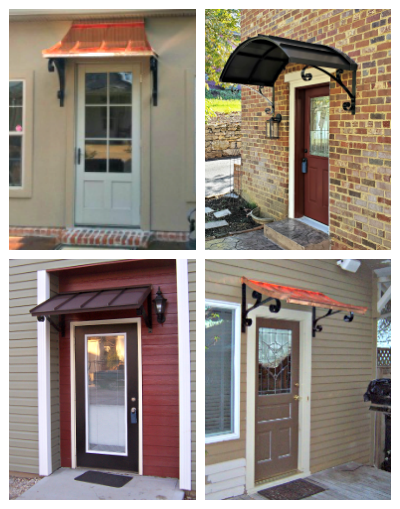 By Kenneth Cannon
|
It's important to consider style when selecting awnings. The right awning can complement the design of your home or business and create a polished, welcoming atmosphere.
Romeo Awnings: This awning is simple, elegant, and regal. The strong, solid design features flat sides and clean, straight lines. It is contemporary, yet conservative. Keep the look minimalistic and streamlined by displaying the Romeo awning sans scrolling. Or, add a touch of the ornate by including some curving scrolls.
Classic Awnings: Aptly named, the Classic awning lends itself perfectly to historic or plantation style homes. It can also be just what you need to create that perfect amount of vintage charm in your modern home. The simple, understated aesthetic doesn't take away from the overall design of a place and complements almost any architectural style.
Concave Awnings: The delicately arched Concave awning adds a distinct touch to windows or doors. It is a versatile style that can work on almost any architecture, bringing a romantic vibe to the space. The inward curve of the Concave awning creates generous shade, making it a great choice for main entrances and porches.
Eyebrow Awnings: The Eyebrow is one of the more distinctive awning styles. The Eyebrow's curved shape creates a fluidic aesthetic that can be the perfect match for an eclectic home. It can also add a touch of whimsy and drama to an otherwise conservatively-styled structure..
Wedge Awnings: The Wedge is clean and modern. The solid wedge shape is strong, bold, and offers a less delicate look than some of the other styles. The geometric design of the Wedge makes it a natural choice for many modern homes — especially those with angular features.
Juliet Awnings: The Juliet is our signature awning, created with a focus on classic beauty and timeless style. The beautiful craftsmanship and artful curves lend a sense of importance to any space. It is the grand beauty of the Juliet that inspired the understated elegance of the Romeo.
Tips For Choosing the Right Awnings
Design experts say you should choose materials that complement the style of your home. Of course, not everyone agrees on whether something is complementary or not. That's why it's a great idea to look at pictures of homes similar to yours with different types of awnings to get a better grasp of how they might look.
Consider your landscaping as well as your home when thinking about which awning style will look best. It's fine to listen to advice from others, but remember that you're the one who will be living with the results of your choice. Choose something that is reflective of your personal style and taste, not someone else's.
Design Your Awning offers a diverse selection of ready-made and customized awnings for your home or business. Awnings can help lower your energy costs, and they help insulate your home from extreme weather. Any of our signature awnings are available in colored metal or shiny copper, and we offer a selection of scrolling to help you create a look that is perfectly suited to your individual style and taste.